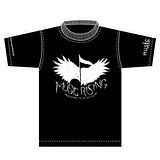 This blog is designed to help you create your own shirts. With tips, tutorials and indications of sites to help you.
I want to give tips and tutorials on how to do layouts using Corel Draw, Adobe Illustrator, Photoshop and other programs. And make embroidery with Wilcom.
We also show techniques of silk-screen, transfer, power film and other types of film shirts printing.
Show as vetorize designs in tutorial, sites for search of new Fonts to your computer.
Besides providing layouts of shirts ready to be made.